Unveiling the Secrets of Upholstery Cleaning: Your Local Experts at Haugland Brothers
Upholstery cleaning often takes center stage when maintaining a clean and inviting home. After all, your furniture is more than just functional; it reflects your style and personality. At Haugland Brothers, we understand the importance of keeping your upholstery looking its best. Here's a glimpse into what our expert upholstery cleaning services entail and why we're the go-to team for Burr Ridge residents, whether it's a scheduled appointment or an emergency.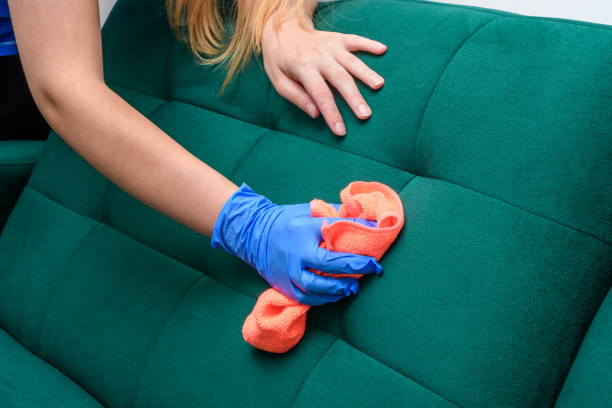 Thorough Inspection: Our process begins with meticulously assessing your upholstery's condition. This helps us identify specific stains, wear patterns, and potential issues requiring special attention.
Fabric Analysis: Different fabrics require different cleaning methods. Our experienced technicians are well-versed in the nuances of various materials, from delicate silks to sturdy leathers. This ensures that we apply the most suitable and effective cleaning techniques.
Pre-Treatment: Stubborn stains and heavily soiled areas receive special pre-treatment to break down dirt and grime. We use eco-friendly, industry-leading products that are tough on stains but gentle on your upholstery.
Deep Cleaning: Our state-of-the-art equipment allows us to reach deep into the fibers, extracting dirt, allergens, and bacteria that may have accumulated over time. This leaves your upholstery looking refreshed and revitalized.
Quick Drying: We understand the urgency of returning your space to its routine. Our efficient drying process ensures that your upholstery is ready to be enjoyed again.
Emergency Services: Accidents happen; when they do, Haugland Brothers is here to help. Our dedicated team is available for emergency upholstery cleaning, providing prompt and reliable service when needed.
As your local experts in Burr Ridge, we take pride in our commitment to excellence. With Haugland Brothers, you can trust that your upholstery is in capable hands, whether it's a planned maintenance or an unexpected spill. Experience the difference today and let us breathe new life into your cherished furniture. Contact us for a consultation, and let us show you why we're the trusted name in upholstery cleaning.