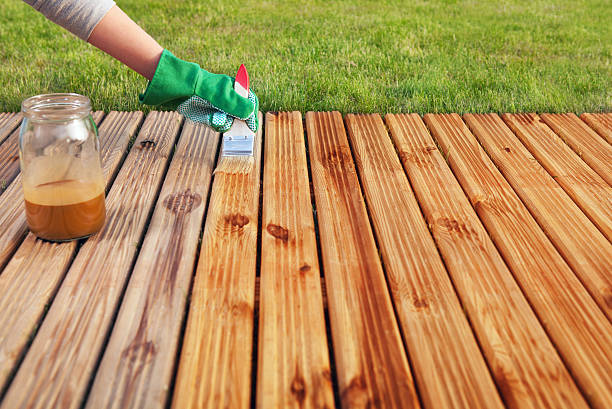 Transform Your Deck with Haugland Brothers' Professional Deck Staining and Painting Services
Few things make a more significant impact than a well-maintained deck when it comes to enhancing the beauty and longevity of your outdoor living space. A beautifully stained and painted deck adds charm to your home. It provides a welcoming environment for relaxation, entertainment, and creating lasting memories with family and friends. At Haugland Brothers, we specialize in turning your deck into a stunning focal point with our top-notch professional deck staining and painting services in Burr Ridge.
Why Choose Professional Deck Staining and Painting?
Over time, your deck can be subjected to harsh weather conditions, UV rays, moisture, and foot traffic, leading to wear and tear. Regular maintenance is crucial to prevent structural damage and maintain its visual appeal. That's where our experts come in. Our skilled team at Haugland Brothers understands the unique requirements of deck care, ensuring that your deck receives the attention it deserves.
The Haugland Brothers' Difference
With years of experience serving the Burr Ridge community, we take pride in our commitment to quality and excellence. When you choose Haugland Brothers for your deck staining and painting needs, you can expect the following:
Expertise: Our team comprises skilled professionals who have mastered the art of deck staining and painting, ensuring impeccable results every time.
Premium Products: We use high-quality, eco-friendly stains and paints that enhance your deck's appearance and provide long-lasting protection against the elements.
Customization: We understand that every deck is unique. Our experts work closely with you to select the perfect stain color and paint to complement your home's aesthetic.
Thorough Preparation: Before applying any stain or paint, we meticulously clean and prepare the surface, ensuring optimal adhesion and a flawless finish.
Timely and Efficient Service: We value your time and strive to complete every project within the agreed timeframe with minimal disruption to your daily routine.
Experience the Transformation
Are you ready to transform your deck into a stunning masterpiece? Look no further than Haugland Brothers. Our professional deck staining and painting services in Burr Ridge are designed to elevate your outdoor space, adding value to your home and creating an inviting haven for all outdoor activities. Contact us today to schedule a consultation and take the first step toward a beautifully transformed deck.