Sparkle and Shine in Every Corner!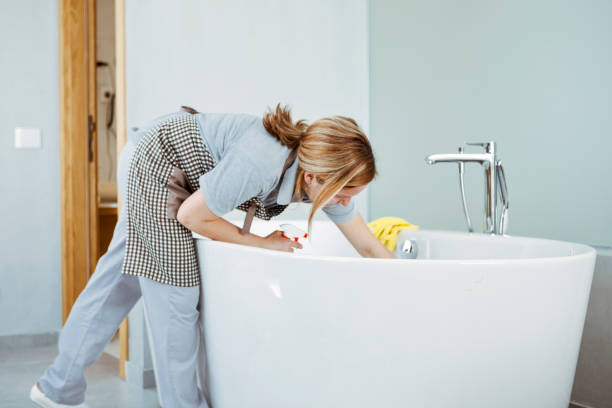 At Haugland Brothers, we understand that a clean and hygienic bathroom is essential for a healthy and comfortable living environment. Our dedicated team is committed to providing top-notch cleaning services that leave your bathroom sparkling and refreshed. Here are the different aspects of your bathroom we can clean to perfection:
Tile and Grout Cleaning: Over time, dirt and grime can accumulate on your bathroom tiles and grout lines, making them look dull and discolored. Our expert cleaners use specialized techniques and eco-friendly products to restore the shine and cleanliness of your tiles.
Sink and Countertop Polishing: Your bathroom sink and countertops are high-traffic areas that can quickly accumulate soap scum, toothpaste, and water spots. We use industry-grade cleaners to ensure these surfaces are clean and polished to a brilliant shine.
Toilet Disinfection: Maintaining a sanitary toilet is crucial for your family's health. Our team pays close attention to every nook and cranny, ensuring your bathroom is thoroughly disinfected and deodorized.
Shower and Tub Cleaning: Soap scum and mineral deposits can build up on your shower walls and tub, detracting from their appearance and hygiene. We employ effective cleaning techniques to remove these residues, leaving your shower and tub looking brand new.
Mirror and Fixture Shine: A streak-free, gleaming mirror can instantly elevate the overall appearance of your bathroom. We use specialized glass cleaners to ensure your mirrors and fixtures are crystal clear and free from smudges.
Floor Sanitization: Bathroom floors are exposed to moisture and high foot traffic, making them susceptible to dirt and grime buildup. Our team uses advanced equipment and cleaning agents to sanitize and revitalize your bathroom flooring.
Ventilation and Air Quality: A well-maintained bathroom should have clean vents and proper air circulation. We ensure that vents are free from dust and debris, contributing to a healthier indoor environment.
At Haugland Brothers, we take pride in our meticulous attention to detail and commitment to excellence. Our comprehensive bathroom cleaning services are designed to transform your space into a clean, fresh, and inviting oasis. Experience the difference with Haugland Brothers, where your satisfaction is our top priority. Contact us today to schedule your next bathroom cleaning appointment!