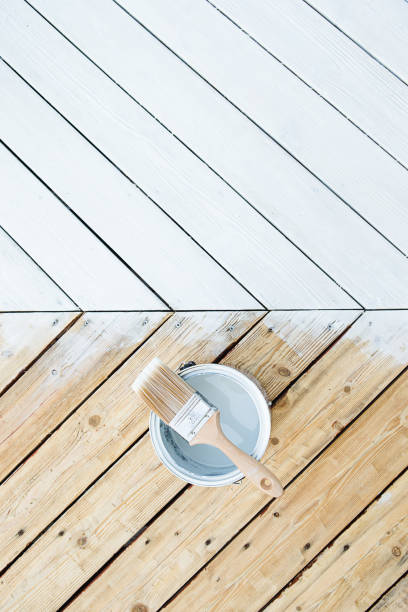 Transform Your Deck with the Perfect Stain: Haugland Brothers' Guide to Deck Restoration
Your deck is the heart of your outdoor living space. In this place, cherished memories are made, where friends and family gather, and where you can unwind and soak in the beauty of your surroundings. But over time, exposure to the elements can take a toll on your deck's appearance, leaving it weathered, faded, and needing some TLC. This is where choosing the right deck stain comes into play, and Haugland Brothers is here to help you with that transformation!
The Importance of Choosing the Appropriate Deck Stain
Selecting the appropriate deck stain is crucial for your deck's aesthetics and longevity. It enhances the natural beauty of the wood. It acts as a protective layer, safeguarding it from moisture, UV rays, and other environmental factors that could lead to rot or decay. The decision-making process may seem overwhelming with an array of deck stain options available in the market. Fear not! Haugland Brothers is here to simplify the selection process and guide you toward the best solution for your deck.
Factors to Consider When Choosing a Deck Stain
Transparency: Decide on the level of transparency you desire. Transparent stains highlight the wood's natural grain, while semi-transparent and solid stains offer more coverage, hiding imperfections.
Color: Choose a color that complements your home's exterior and surroundings. Haugland Brothers offers various colors to suit any preference and style.
Protection and Durability: Consider the level of protection needed for your deck. Haugland Brothers recommend high-quality stains that provide superior durability against weathering, mildew, and UV damage.
Application Method: Depending on your deck's condition, application preferences, and time constraints, you can choose between brush, roller, or spray-on stains.
Professional Deck Restoration Services
If your deck shows signs of extensive wear and tear, or if you need clarification on the best approach for restoration, Haugland Brothers' team of experts is at your service. Our professionals have years of experience in deck restoration, and we use top-notch products to bring your deck back to life. From thorough cleaning and preparation to precisely applying the chosen stain, we ensure your deck looks stunning and stands the test of time.
Choosing the right deck stain is a game-changer for enhancing the beauty and longevity of your outdoor space. Haugland Brothers has you covered whether you're looking for a subtle enhancement or a complete deck restoration. Trust our expertise and experience to revitalize your deck, making it the perfect place to create lasting memories for years to come. Contact us today to start your deck transformation journey!