Why Choose Professional Deck Staining Services for a Beautiful Outdoor Space
A deck is more than just an extension of your home; it's a sanctuary for creating cherished memories. Whether hosting barbecues, relaxing with a book, or enjoying quality time with loved ones, your deck deserves the best care and attention. Although DIY projects may be enticing, it's crucial to place your trust in the hands of experts when it comes to deck staining. In this blog post, we'll explore why you should choose professional deck staining services for a stunning outdoor space that lasts.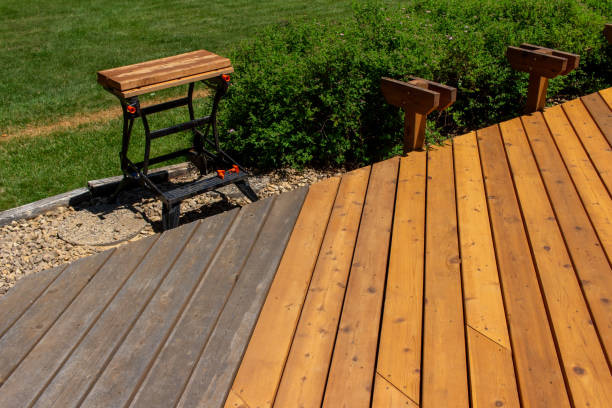 Expertise and Experience: Professional deck staining companies, such as Haugland Brothers, have a team of skilled and experienced technicians who understand the intricacies of the process. Professionals possess extensive knowledge regarding the ideal products for various wood types, impeccable surface preparation techniques, and the ability to apply the stain evenly, resulting in a flawlessly finished deck. Their expertise ensures your deck receives the care it needs to withstand the elements and maintain its beauty for years.
Time and Convenience: Staining a deck can be a time-consuming task, requiring meticulous preparation, application, and drying time. By hiring professionals, you save yourself the hassle and effort. With their arsenal of specialized tools, equipment, and abundant resources, professionals are equipped to efficiently complete the deck staining job. This frees up your valuable time to concentrate on other crucial aspects of your life. With their streamlined processes, you can enjoy a beautifully stained deck without the stress and inconvenience of a DIY project.
Longevity and Protection: One of the primary reasons for staining a deck is to protect it from weather damage, UV rays, mold, and rot. Professional deck staining services utilize high-quality stains and sealants that provide superior protection against these elements. They know which products offer the best durability and longevity, ensuring your deck stays vibrant and well-preserved for an extended period.
Enhanced Aesthetics: A professionally stained deck can transform the entire look of your outdoor space. The technicians pay attention to detail, ensuring a consistent and even application of the stain, enhancing the natural beauty of the wood. With their expertise, they can recommend the ideal stain color that complements your home's aesthetics, creating a cohesive and visually appealing environment.
Investing in professional deck staining services is a wise decision that pays off in the long run. By entrusting your deck staining to skilled technicians, you gain the advantages of their expertise and experience and save significant time and effort. The result is a stunning deck protected against the elements, durable, and aesthetically pleasing. Trust professionals like Haugland Brothers to transform your patio into a beautiful outdoor oasis that you'll be proud to show off to family and friends.