Elevate Your Outdoor Oasis: Experience Unmatched Deck Staining Expertise with Haugland Brothers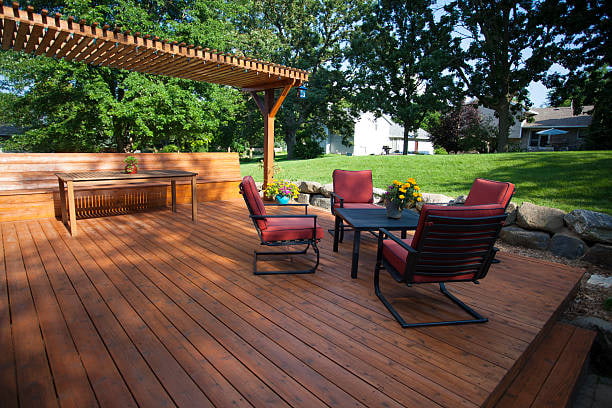 Suppose you want to transform your ordinary deck into a stunning outdoor oasis. In that case, Haugland Brothers are your trusted partner for exceptional deck staining services. With their extensive experience and reputation for excellence, Haugland Brothers are the go-to choice for achieving remarkable results. In this blog post, we will explore the intricacies of deck staining, uncovering the art behind it, and showcasing how Haugland Brothers can elevate the allure and durability of your outdoor living space.
Unparalleled Deck Staining Expertise:
Deck staining is not just about adding color; it's about protecting and enhancing the natural beauty of the wood. Haugland Brothers understand the intricacies of deck staining, from surface preparation to selecting the perfect stain for optimal results. With their skilled professionals and attention to detail, they can transform your deck, highlighting its unique grain and creating a captivating focal point for your outdoor sanctuary.
The Haugland Brothers Difference:
When you choose Haugland Brothers for your deck staining needs, you benefit from their unwavering commitment to quality and customer satisfaction. With a team of skilled experts blending technical mastery and an unwavering attention to detail, Haugland Brothers ensures that every step of the staining process is meticulously executed to perfection. From thorough surface cleaning and preparation to precise application techniques, Haugland Brothers take pride in delivering flawless results that stand the test of time.
Protecting Your Investment:
Beyond the aesthetic enhancements, deck staining provides essential protection against the elements. Haugland Brothers use premium quality stains that safeguard your deck from moisture, UV rays, and wear, prolonging its lifespan and minimizing maintenance requirements. By choosing their professional deck staining services, you can enjoy a beautiful deck that remains vibrant and durable deck for years to come.
Regarding deck staining services, Haugland Brothers are the name you can trust for exceptional results. With their unparalleled expertise, attention to detail, and commitment to customer satisfaction, they elevate your outdoor oasis to new heights. Contact Haugland Brothers today to transform your deck into a captivating masterpiece that enhances the beauty and enjoyment of your outdoor living space.