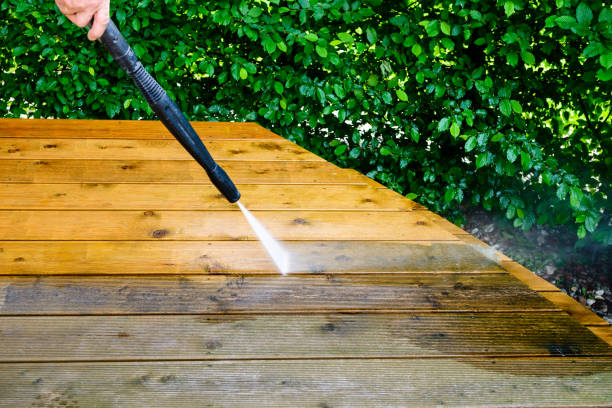 Transform Your Hinsdale Deck into a Stunning Outdoor Oasis with Haugland Brothers' Expert Deck Cleaning, Staining, and Painting Services
Are you tired of looking at your dull and weathered deck in Hinsdale? Do you wish to revitalize its appearance and make it the perfect spot for outdoor gatherings and relaxation? Look no further than Haugland Brothers, your trusted experts in professional deck cleaning, staining, and painting.
Regarding deck maintenance, Haugland Brothers have the experience and expertise to deliver exceptional results. Our team of skilled professionals understands the unique challenges that decks in Hinsdale face, from harsh weather conditions to heavy foot traffic. We take pride in our meticulous approach to deck restoration, ensuring that every project is handled with care and attention to detail.
The first step in our deck rejuvenation process is a thorough cleaning. We utilize high-quality equipment and eco-friendly cleaning solutions to remove dirt, grime, mildew, and other accumulated impurities over time. This deep cleaning not only enhances the overall appearance of your deck but also prepares it for the next crucial step: staining or painting.
Deck staining is a popular choice among homeowners in Hinsdale who want to highlight the natural beauty of their wooden decks. Our team at Haugland Brothers offers a wide range of stain options to suit your preferences, from transparent and semi-transparent stains that allow the wood grain to show through to solid colors that provide a more uniform and opaque finish. Our staining process ensures even coverage and long-lasting results that protect your deck from the elements.
If you're looking for a more dramatic transformation, deck painting might be your ideal choice. Our experts can help you select the perfect paint color to complement your home's exterior and create a vibrant, eye-catching deck space. Our professional painting techniques and top-quality paints guarantee a smooth, durable finish that will withstand the test of time.
At Haugland Brothers, we are committed to exceeding your expectations and delivering a deck you'll be proud to show off. Don't settle for a worn-out deck any longer. Contact us today for a consultation. Let our professionals bring new life to your Hinsdale deck with our professional deck cleaning, staining, and painting services.