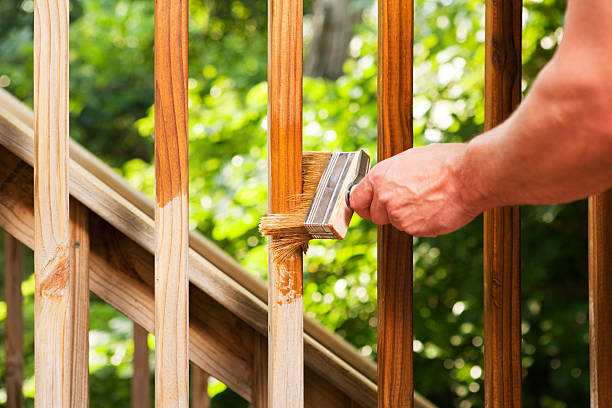 Enhance Your Outdoor Oasis with Haugland Brothers' Professional Deck Staining Services
A well-maintained deck can be the centerpiece of your outdoor oasis, providing a space for relaxation, entertainment, and creating lasting memories. However, exposure to the elements can take a toll on its appearance and structural integrity over time. That's where Haugland Brothers' professional deck staining services come to the rescue. With our expertise and attention to detail, we can transform your weathered deck into a stunning outdoor retreat in Hinsdale.
Preserve and Protect: Deck staining is not just about aesthetics; it's also crucial for preserving and protecting the wood from the harsh effects of sunlight, moisture, and fluctuating temperatures. At Haugland Brothers, we understand the unique challenges decks face in the Hinsdale climate. Our team of skilled professionals will assess the condition of your deck, repair any damaged areas, and choose the right staining product to ensure maximum protection against UV rays and water damage.
Enhance Beauty and Durability: Beyond preserving your deck, our staining services will enhance its natural beauty. Whether you prefer a rich, warm tone or a more contemporary look, our range of high-quality stain options allows you to achieve the desired aesthetic. Our experienced team will carefully apply the stain, ensuring even coverage and a flawless finish. Not only will your deck look visually stunning, but the stain will also penetrate the wood, adding an extra layer of durability and longevity.
Expertise and Attention to Detail: We take pride in our commitment to excellence at Haugland Brothers. Our team of professionals is highly skilled and experienced in deck staining. We understand the intricacies of the process, from proper surface preparation to selecting the ideal stain for your deck's unique characteristics. With our meticulous attention to detail, you can rest assured that every aspect of the staining process will be handled with precision and care.
Keep a worn-out deck from diminishing the beauty and enjoyment of your outdoor space in Hinsdale. Haugland Brothers' professional deck staining services are designed to revitalize and protect your deck, ensuring it remains a focal point of relaxation and entertainment for years. Contact us today and let our experts transform your deck into a stunning outdoor oasis.