Elevate Your Outdoor Space with Haugland Brothers' Deck Staining and Painting Service
Your outdoor space is more than just a backyard – it's an extension of your home where you create cherished memories, unwind after a long day, and host gatherings with friends and family. At Haugland Brothers, we understand the significance of this space, and we're here to help you elevate it to a whole new level with our expert deck staining and painting service.
Deck Staining and Painting: The Ultimate Transformation
Is your deck looking worn out, weathered, or lacking the vibrancy it once had? Our deck staining and painting service is designed to rejuvenate your outdoor space, breathing new life into it. Whether you have a wooden deck that needs staining or a composite one that could use a fresh coat of paint, our skilled professionals have the experience and expertise to deliver outstanding results.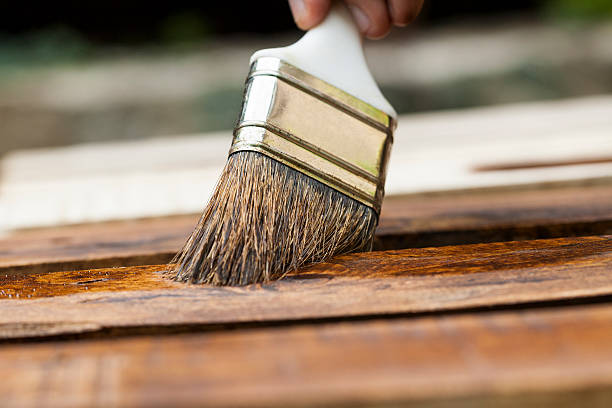 Unleash Your Creativity
Beyond the practical benefits of deck staining and painting, this service opens up design possibilities. Choose from various stains and paint colors to match your aesthetic preferences and complement your home's architecture. From earthy tones that blend seamlessly with nature to bold hues that make a statement, the choice is yours. Our skilled team is available to offer expert guidance, assisting you in selecting the ideal color scheme that perfectly complements your style.
Preserve and Protect
Deck staining and painting isn't just about aesthetics; it's also about preserving and protecting your investment. Regular staining or painting helps shield your deck from the elements, preventing moisture damage, fading, and wood deterioration. This maintains the stunning appearance of your deck while also prolonging its lifespan, ultimately helping you avoid potential expenses for future repairs or replacements.
Why Choose Haugland Brothers
At Haugland Brothers, we are committed to quality and customer satisfaction. Our team is dedicated to delivering top-notch craftsmanship, attention to detail, and personalized service tailored to your needs. When you choose us for your deck staining and painting project, you're choosing a partner that cares about enhancing your outdoor space as much as you do.
Elevate your outdoor space today with Haugland Brothers' professional deck staining and painting service. Contact us to schedule a consultation and take the first step toward transforming your deck into a stunning oasis you'll love for years.