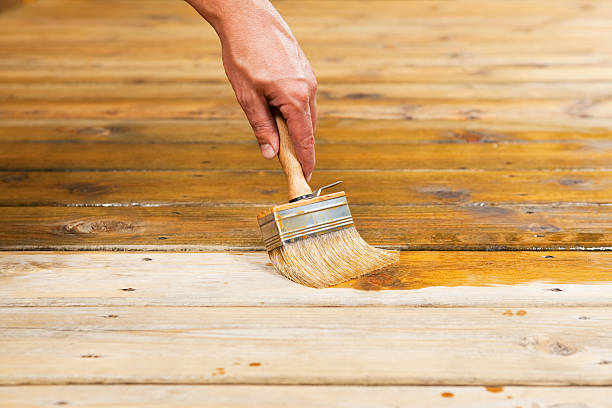 Emphasizing the Importance of Deck Staining and Restoration
As the warm rays of sunshine finally grace Western Springs again, homeowners eagerly prepare to enjoy their outdoor spaces. The deck is among the most cherished areas of any property, serving as a hub for relaxation, entertainment, and cherished family moments. However, with exposure to harsh elements throughout the year, decks can quickly lose their charm. That's where Haugland Brothers come to the rescue, emphasizing the vital role of deck staining and professional restoration in transforming your outdoor oasis.
Importance of Deck Staining:
Deck staining is more than just a cosmetic enhancement; it's a critical step in preserving and protecting your deck from the elements. Regular staining acts as a shield, warding off moisture, UV rays, and the potential damage caused by fluctuating temperatures. Not only does this protect the wood from rot, warping, and fading, but it also extends the deck's overall lifespan. With Haugland Brothers' expertise, you can ensure your deck stands strong against time and weather, maintaining its natural beauty for years.
Professional Deck Restoration:
If your deck has already suffered the consequences of neglect, worry not! Haugland Brothers offer top-notch deck restoration services, breathing new life into weathered and worn-out surfaces. Through a meticulous process, their skilled team will inspect, repair, and rejuvenate your deck to its former glory. Whether it's removing stubborn stains, fixing loose boards, or even handling advanced restoration projects, their experts have the tools and knowledge to revitalize your outdoor space.
Why Choose Haugland Brothers:
Haugland Brothers is a premier deck staining and restoration company in Western Springs. Their commitment to quality craftsmanship and customer satisfaction is unmatched. Equipped with years of experience and industry-leading techniques, their team takes pride in transforming ordinary decks into stunning extensions of your home.
Investing in deck staining and professional restoration with Haugland Brothers is an investment in the longevity and beauty of your outdoor space. Whether you're looking to preserve your deck's current allure or breathe new life into a neglected area, their experts have the expertise to get the job done right. Keep your deck from succumbing to the elements; elevate your outdoor space with Haugland Brothers and enjoy countless memorable moments in your revitalized oasis.